6th Training course, China, 2015 - 6th EABRN Training in China
The 6th EABRN International Training Workshop "Sustainable Management of Biosphere Reserves" in China
6th International training course on "Sustainable management of biosphere reserves" took place 20-30 May 2015 in the framework of the East Asia Network of Biosphere Reserves (EABRN) in the Chinese Biosphere Reserve Wudalianchi. The training was attended by two experts from Kazakhstan: Rustem Egenberdiev and Malika Duysebaeva. The working programme and Impressions of the trip of Rustem Egenberdiev about this event are given below.
The programme- of 6th EABRN Training Course

Date

Time

Contents

19th May (Tuesday)

All Day

Arrival and registration

20th May (Wednesday)

Morning

Opening ceremony

Theory of Sustainable Development and general policies of global Biosphere Reserves (BR)

Afternoon

General status of BRs in EABRN countries

General policy and status of BRs in China

21st May (Thursday)

Morning

Biological diversity and Sustainable Development of BRs

Afternoon

Best practices in the conservation and management of Wudalianchi BR

22nd May
(Friday)

Morning

Sustainable management of BRs in the Republic of Korea

Afternoon

Sustainable management of BRs in Japan

23rdMay
(Saturday)

All Day

Field investigation in Wudalianchi and discussion with local managers

24thMay
(Sunday)

All Day

Free time / presentation preparation

25th May (Monday)

All Day

Best Practices:Interactive Exchange and discussion among participants including case study presentation from each country

26th May
(Tuesday)

Morning

Space technologies for sustainable BR management: operation system for Earth observation in China and virtual ground receiving station

Afternoon

Space technologies for the sustainable management of Biosphere Reserves

Space technologies for the mitigation of natural disasters

27th May
(Wednesday)

All Day

Presentation and demonstration of unmanned aerial vehicle (UAV) operation, data collection and analysis

28th May
(Thursday)

Morning

Transfer from Wudalianchi to Harbin

Afternoon

Visit to the city of Harbin

29th May
(Friday)

Morning

Lectures at the Harbin Base of HIST

Afternoon

Summary and Closing Ceremony

30th May
(Saturday)

All Day

Departure
Training course was organized collaboratively by the International Centre on Space Technologies for Natural and Cultural Heritage under the Auspices of UNESCO (HIST), the Wudalianchi Administration Committee, the Chinese MAB National Committee and the EABRN Secretariat at UNESCO Beijing Office.
The course brought together BR managers, experts and lecturers from 15 countries across Asia as well as Europe and Africa. Tehere were 18 trainees from EABRN as well as SACAM and SeaBRnet; 17 lecturers and experts contributing at different times.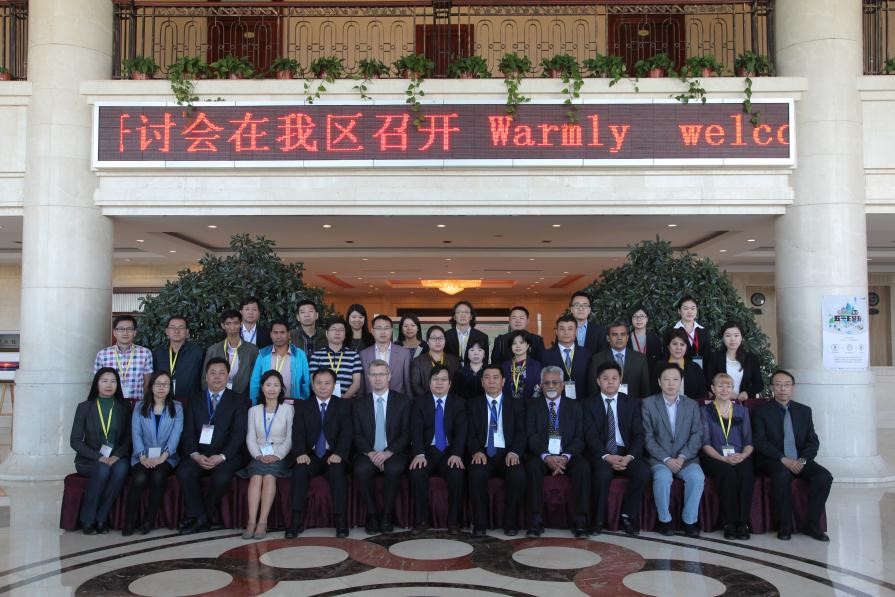 Participants of the 6th Training course of EABRN
Impressions of Rustem Yegenberdiev (Aksu-Zhabagly Biosphere Reserve): I took part in the 6th East Asian Biosphere Reserve Network (EABRN) International Training Workshop on "Sustainable Management of Biosphere Reserves", 20-30 May, 2015. Wudalianchi, China.
The Workshop was organized by EABRN Secretariat, UNESCO Beijing Office, International Centre on Space Technologies for Natural and Cultural and Cultural Heritage under the Auspices of UNESCO (HIST),
Wudalianchi Administration Committee, HIST Harbin Base, Chinese National Committee for MAB. It was supported by The Republic of Korea National Commission for UNESCO (KNCU), The Republic of Korea Ministry of Environment.
The Training Workshop included lectures, discussions, a field work component in Wudalianchi Biosphere Reserve and a session at the Harbin Base of HIST. The course promoted cooperative research on biodiversity conservation and socio-economic development in and around BRs. Special attention was given to developing the capacity of BR managers through the application of modern technologies and special tools.
We stayed in 8 days in Wudalianchi Global Geopark Hotel. Lectures and 2 days field trip in Wudalianchi BR gave us lot of knowledge and experience. We had interative communications with experts from UNESCO headquarters, ERAIFT (a regional school of UNESCO in Africa), Korea, HIST, and others.
I thank the MAB committee of Kazakhstan headed by Professor Roman Jashenko and all the organizers of the Workshop. I hope the knowledge I get from the 6th EABRN International Training Workshop will help me in biodiversity conservation of our country.
Photo by Rustem Yegenberdiev